Enlarge Image

Change Wall Color
Tweet
Thomas Blackshear Lenox Home At Last In Ivory
Status: Available | Condition:New | Edition:Limited Edition | Edition Size: Limited Edition | Dim:9 1/8 inches | Thomas Blackshear Lenox | Item #: 834377
Price:$195.00
Available for purchase as of: April 24, 2014
As an option you may also pay for Thomas Blackshear Lenox Home At Last In Ivory using Paypal, or Amazon Payments. Please note that all orders must be delivered to a physical address verified by Paypal and Amazon. This PayPal/Amazon option is not applicable to orders to be delivered to Military or International orders.
Home At Last In Ivory
NOTES: Home at Last celebrates the return of our country's courageous women in the military. Thomas Blackshear expresses a truly heartfelt moment and the overwhelming joy of being reunited with your child. Tremendous love, relief, and tenderness, envelopes loved ones when they arrive home safely.

Excited little girl fits in with the military home coming scene and as a stand alone figurine.
Home At Last In Ivory , by Thomas Blackshear Lenox comes packed with a Certificate of Authenticity which affirms that this piece is an authentic Limited Edition Sculpture. The Collection Shop is an Authorized Premier Dealer for Thomas Blackshear Lenox
Additional Images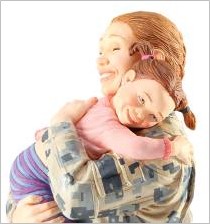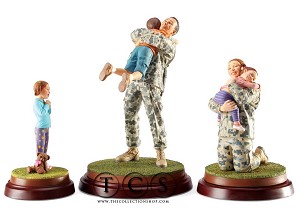 share with us
Share your thoughts and comments on Home At Last In Ivory by Thomas Blackshear Lenox Find us on Google+
Thomas Blackshear Lenox bio